Vanessa-Mae will perform at the Ondrej Nepela Arena in Bratislava, Slovakia on May 11, 2017.  Furthermore, the Czech Bohemian Symphony Orchestra Prague (BSOP) will accompany her.
About the Ondrej Nepela Arena ..
At capacity, this arena can hold over 10,000 people.  It's one of the most cutting-edge facilities after undergoing renovation back in 2011. Now, it has noteworthy features such as LED scoreboards and the like.  The makeover was done at the request of the President of Slovakia.  The cost of the project is around 87 million euros.  Check out the pictures below as it's quite a sight to behold.
In case you're wondering, Ondreg Nepela is the name of a 1972 Czechoslovakian Winter Olympics skating champion.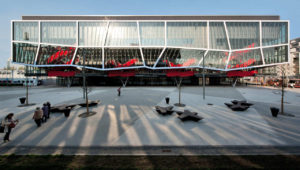 Details are here.
Let me give a BIG thanks to Display for finding this information!
Lastly, If you are planning to attend this concert, please reach out to me.