*updated 11/16/17* HQ pics of Vanessa-Mae's birthday card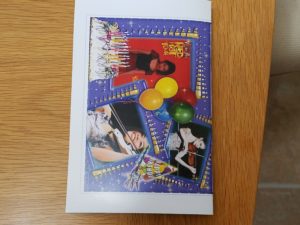 Scroll down to see the questions submitted to Vanessa-Mae.
In preparation for Vanessa-Mae's birthday …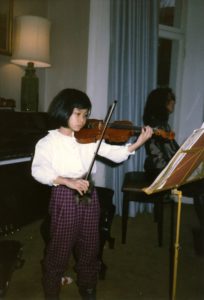 Vanessa-Mae's birthday is a little over two months from now.  She was born on October 27, 1978.  Here's a little fun fact, did you know Niccolo Paganini was also born on that same day?  Vanessa has often stated Paganini is her favorite composer.
As a tradition, we send Vanessa questions asked by fans on the VMnet forum .  We have done this for the past 14 years, and she's answered every single one!  Now I'm giving you the chance to ask your own question.  Remember though, I cannot guarantee that your question will be chosen.  We only send about six or seven questions total.
How?  You must first register on the forum and then head over to the Vanessa's birthday thread for details.
We also send presents and this year's will be very special.  The present itself is worth thousands of dollars and will be very unique.  I can't wait to tell you more about it!
~Ben
Update – 11/16/17
Here's the message I sent to Vanessa-Mae on her birthday card:
Dearest Vanessa-Mae,
Happy 39th Birthday! We here at the VMnet forum wish that you had a very memorable birthday, spending time with loved ones and having lots of fun! All of us wish to thank you for the wonderful memories that you have given throughout your extraordinary career.
We have a very special birthday present for you, but it's not ready yet. Please
stay tuned! 🙂
Of course we do have a few questions that we hope you'd be willing to answer:
1) What keeps you busy nowadays musically (in between concerts)?
2) Any news on a new album? If not, could you tell us what style(s) of music that it would encompass?
3) Your fans in the U.S. miss you! Do you plan on performing in the U.S. in the not-too-distant future?
4) During your concerts recently, We notice you've played some music we haven't heard you play in quite some time.  For example, "Picante" and "I will always love you". Do you plan to keep going back and performing pieces from your earlier work that you haven't perform in quite a while? If so, we love the idea! Paganini's "24th Caprice" and "Classical Gas" come to mind … 🙂
5) Do you have a strict practice regiment you follow? When you practice, are there certain pieces that you like to play to keep yourself in shape?
… and that's it! Once again, thank you for your time and we look forward to hearing from you!
-Benji Ivy
Owner, vanessamae.net
Lastly, her birthday present is still not ready yet.  I recommend you visit the forum's birthday thread to stay informed.